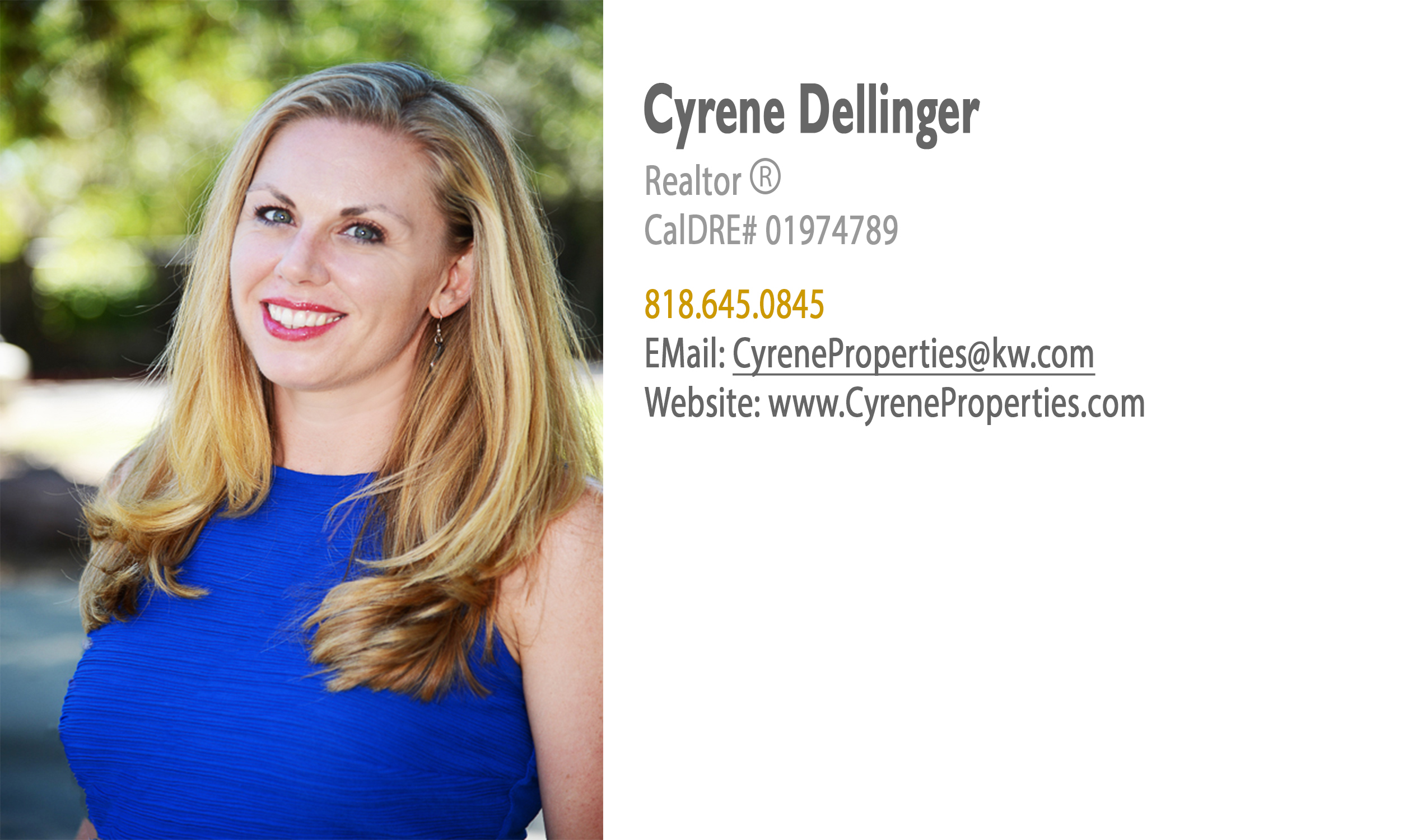 Cyrene is the top-performing agent at her brokerage and has experience in a variety of fields that have given her a wide array of skills. She has honed her negotiation, finance and contract skills through the large volume of homes she's sold and as a CFO in the Healthcare Industry. She has a Bachelor's Degree in Finance, has built businesses from the ground up, and knows the meaning of teamwork and leadership. Cyrene works with a large breadth of clientele and understands the needs of sellers, investors, and first-time home buyers alike. She listens to her clients' needs, takes action on those needs and delivers above expectations!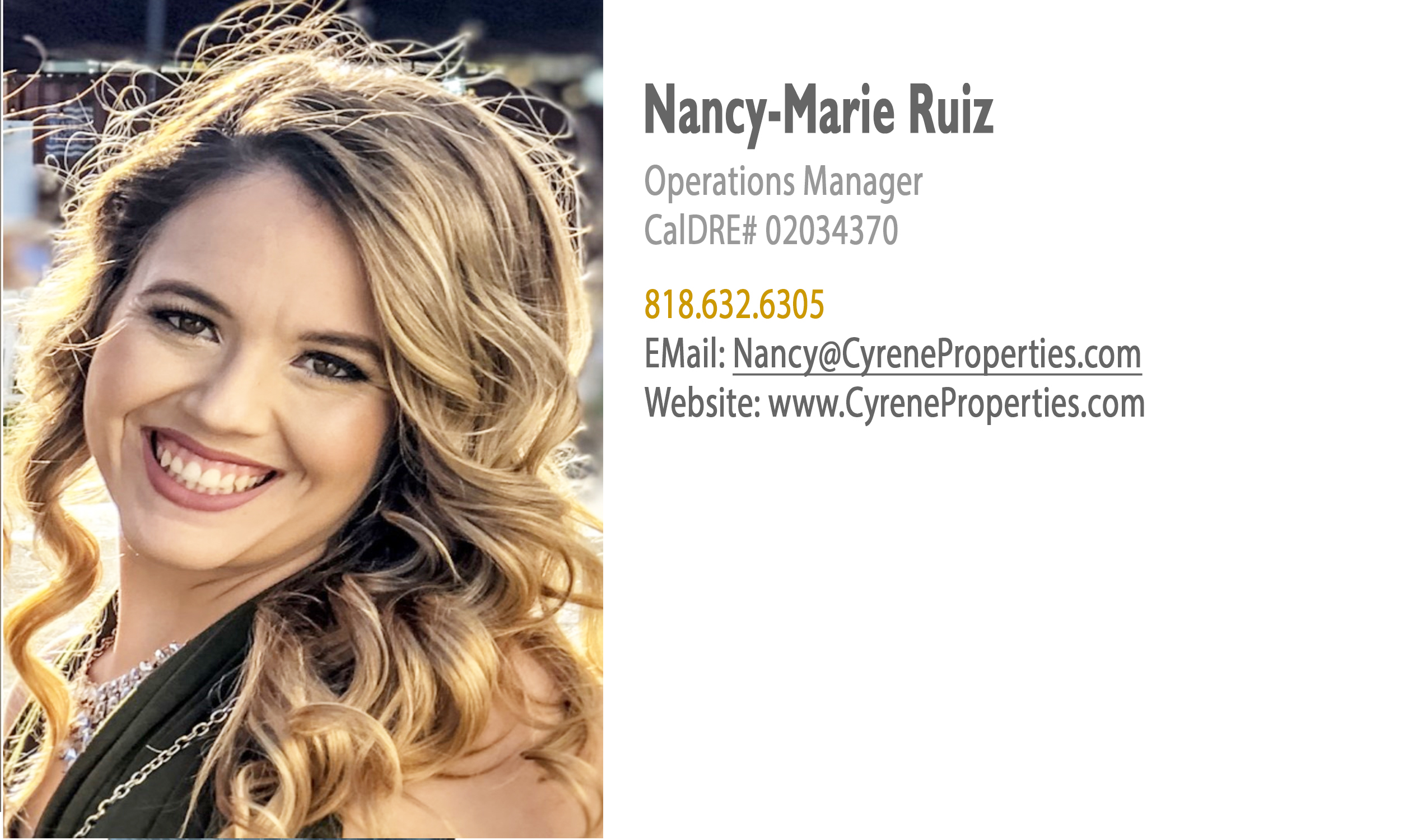 Nancy-Marie was born and raised in the San Fernando Valley. She started her Real Estate career at the young age of 19, and has worked closely with many top producing agents in the industry for the last 11 years. She is passionate about helping her clients through the complex process of buying and selling their homes, and doing everything she can to make it as seamless as possible. Nancy-Marie is also a Certified Negotiations Expert and works hard to ensure her clients are getting the most out of their transaction. In her free time, Nancy-Marie loves traveling, and going to Disneyland. She is also fluent in Spanish, and American Sign Language.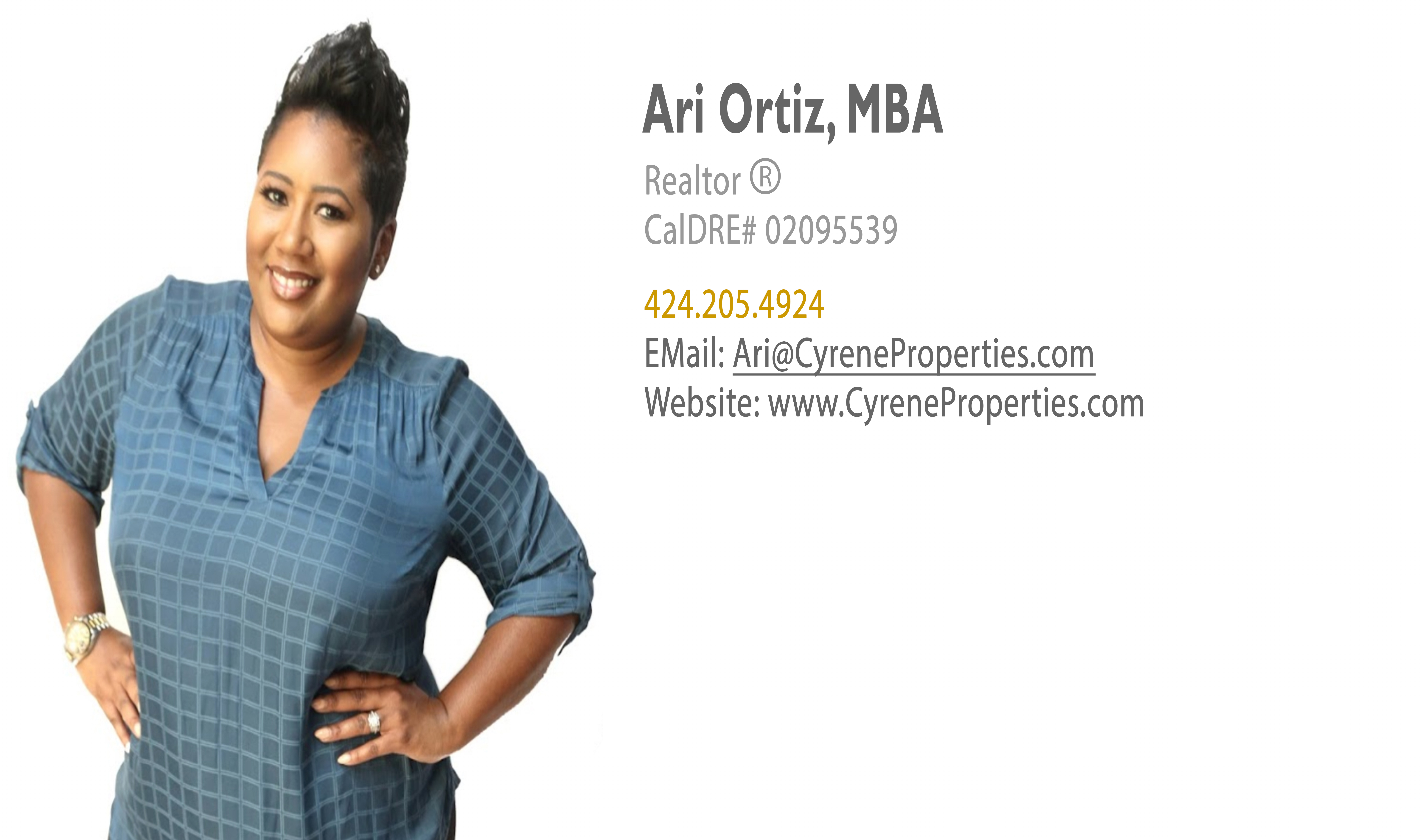 Arianne is a skilled and client focused real estate agent in the Los Angeles area. She comes from a background in both marketing and lending and holds an MBA from the University of Phoenix. Ari holds integrity and client satisfaction in the highest regard and is extremely passionate about helping her clients achieve their real estate goals. she strives for excellence in every transaction and is dedicated to getting her clients one step closer to buying or selling their home. Ari is a wife and mother of two daughters and grew up in the South Bay area. She enjoys travelling, trying new hotspots with her husband and hosting her friends and family at her home in the San Fernando Valley.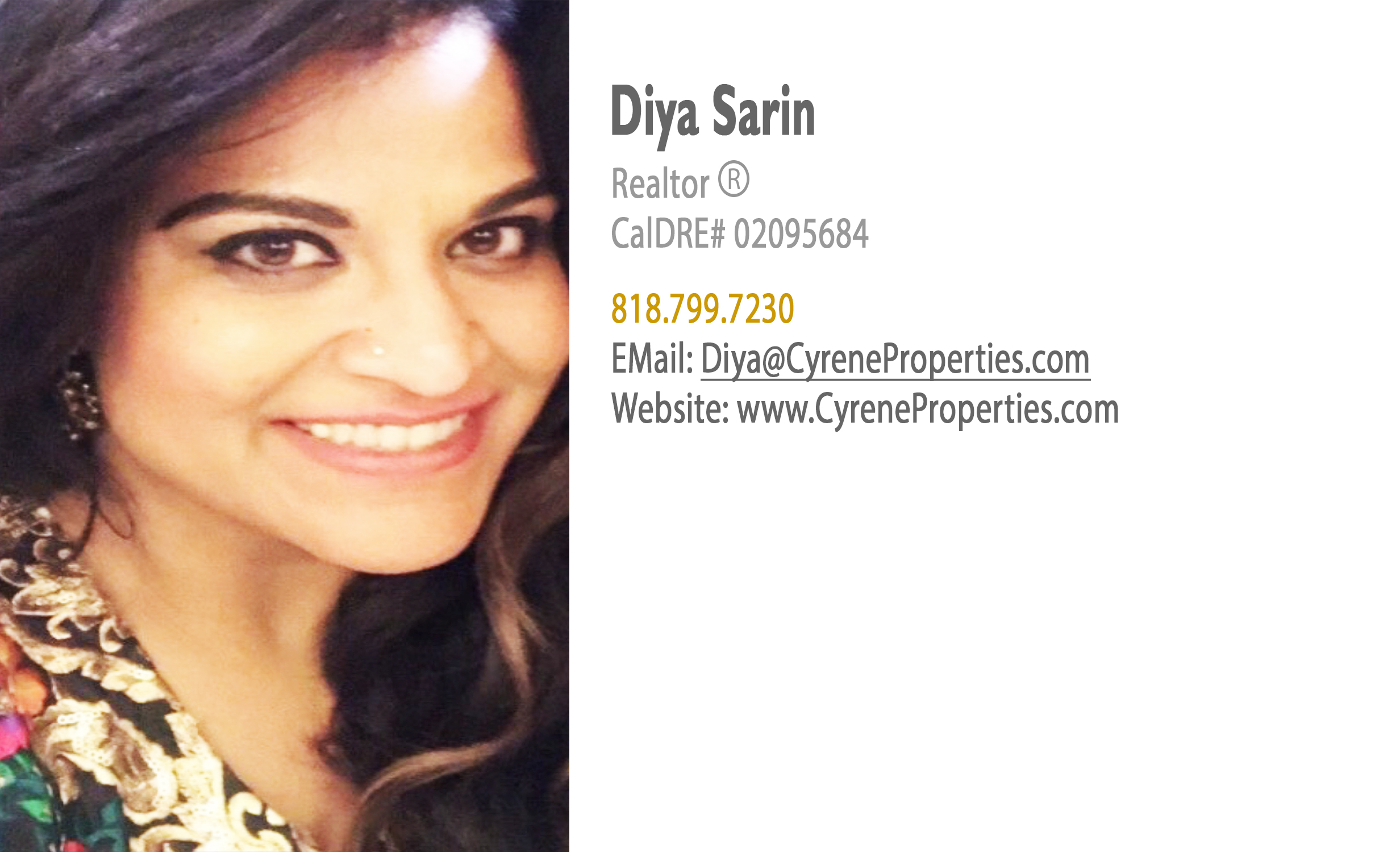 Diya Sarin has lived in Southern California since childhood. She comes from a background of sales and client relations. She loves working closely with people and client satisfaction is her number one goal. Diya Sarin attended the University of Southern California and earned a degree in Communications. She later went on to become a Marketing Director for Technicolor. She brought all of the skills she gained from the experiences with her to the Real Estate world and produces exemplary satisfaction in assisting her clients to find the home of their dreams.
Diya Sarin loves spending time with her family, past clients, and her dog, Luna. She loves traveling, interior decorations, art, and also loves to dance and sing. Diya is involved with several non-profit organizations, where she loves doing charity and giving back to the community.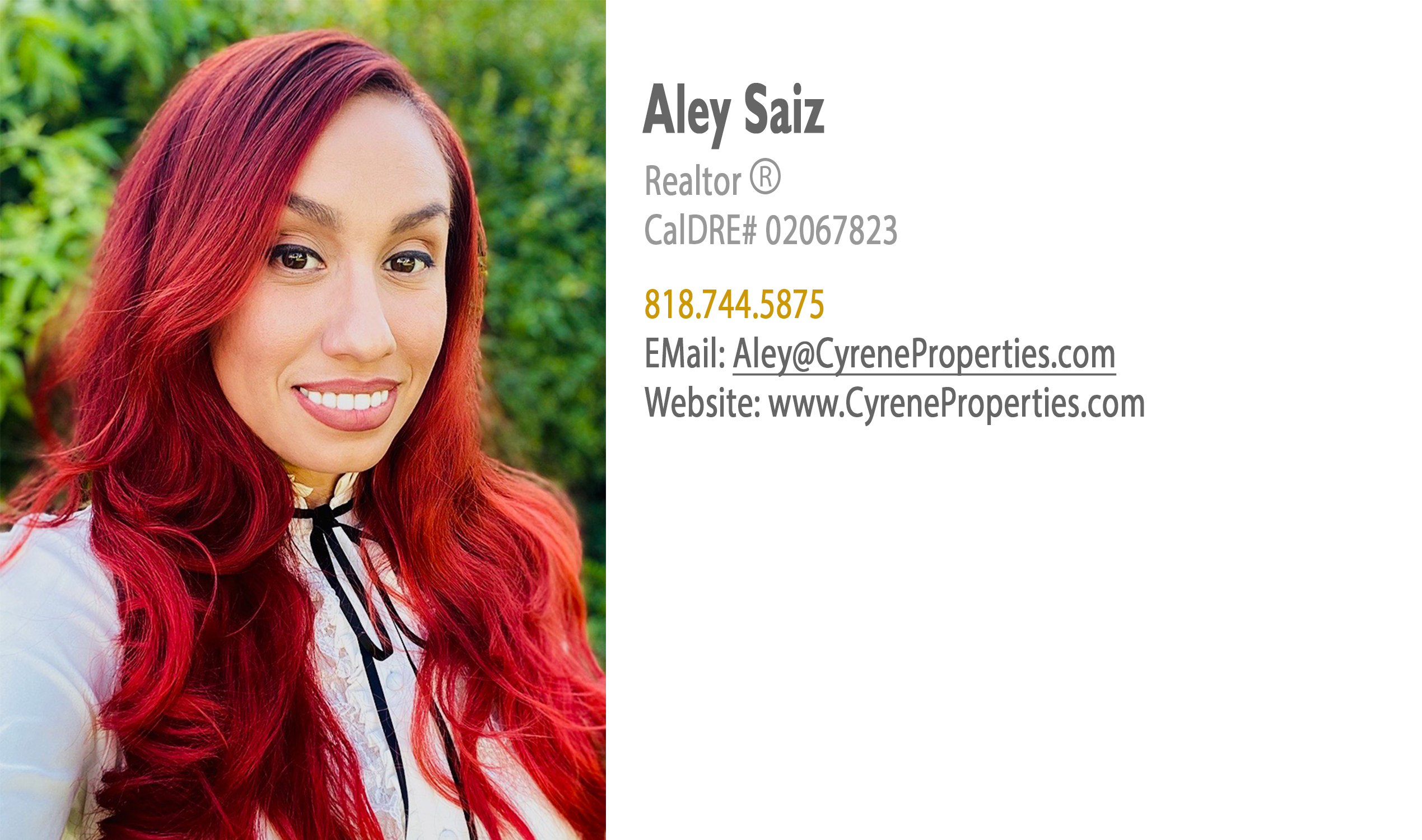 Aley is Honest, hardworking, knowledgeable, and always has her client's best interests in mind. Real Estate has always been her passion! After many years working for non- profit and later as a legal assistant in the corporate world, she decided to pursue her dream of helping people with what is often the largest decision of their lives – buying a home. She is committed to her clients and loves being able to help them. She comes from a service-oriented background and strives to take the stress off her clients, and contribute to a smooth escrow. Her legal background is a great asset when reviewing contracts with her clients. She takes great pride in explaining the process of buying in detail. Aley is bilingual in English and Spanish. She enjoys Salsa dancing, spending time with her rescue pup, and traveling with her family.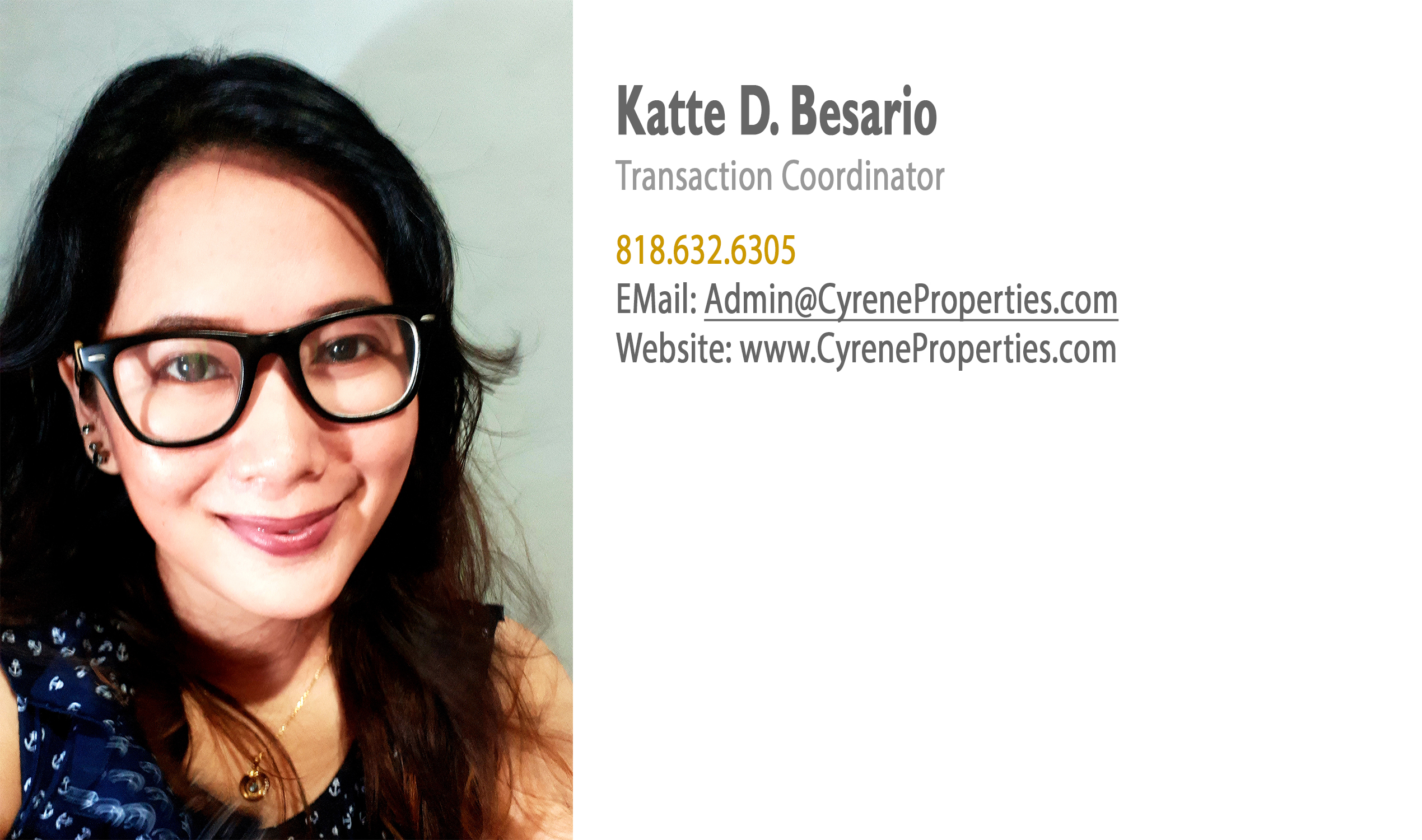 Katte is a seasoned administrative professional and an enthusiastic team member of Cyrene Properties, Inc. She has a Bachelor's degree in Commerce and Business Management. Her previous experience as a Customer Support Specialist for Sprint/Nextel and Technical Support Specialist for Verizon Broadband has built a solid foundation in customer care, outstanding analytical and problem-solving skills, and she can multi-task gracefully from one task to the next. She is able to perform tasks such as general administrative work, manages transactions from listing contracts to closing, appointment setting, coordinating with clients and vendors to photo and video editing, designing postcards and flyers to social media marketing…. almost anything under the sun.
Katte is a happy wife and a proud mother of his only son. She was born and raised in the Philippines. She loves to eat and learn how to cook. During her free time, she loves to ride her motorcycle, go to the beach, go mountain climbing or just simply stay at home, watch Japanese anime series and funny videos online with her son, read books, and play with the kids.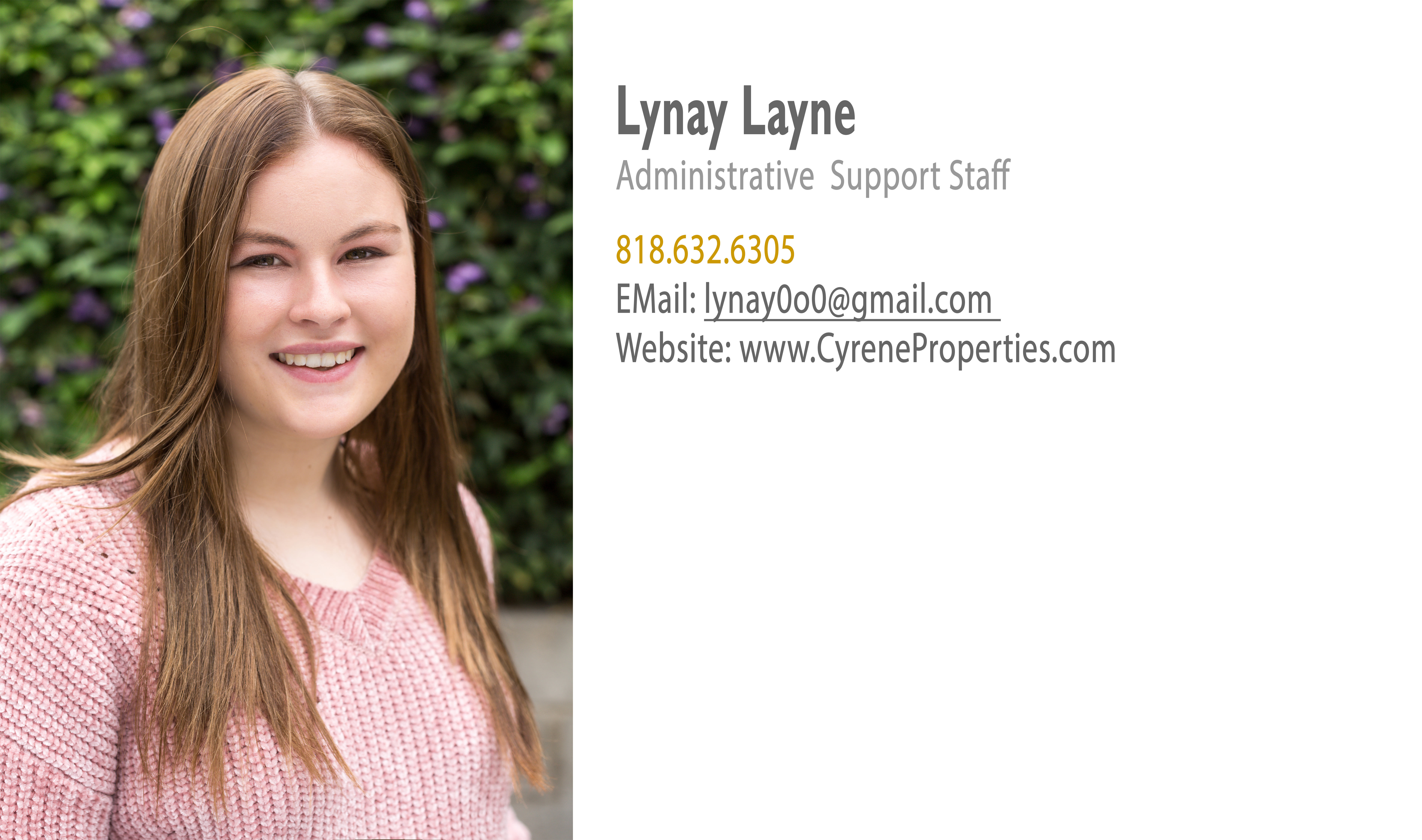 Lynay was born and raised in the San Fernando Valley. She sees the positive in everything she does, and truly cares for all of the people she helps. Lynay is a hardworking and helpful asset to the team. She is creative, loves to support others, and is very reliable. You can count on her to assist you whether it's setting appointments or getting you that cup of coffee you asked for; she will go to whatever length is needed to complete the task at hand. Her hobbies include crafting her own jewelry, thrifting, and finding new things to make.